.... How the US president is using straws
Trump straws: How the US president is using straws to beat liberals with
By Lauren TurnerBBC News, Washington DC25 July 2019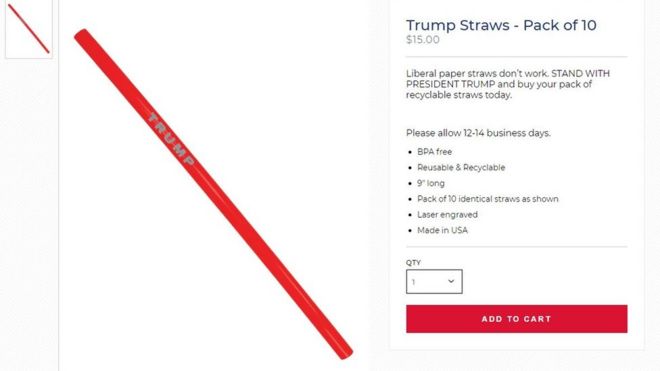 Ever given much thought to how you consume a cold drink? Well now, your chosen method could be seen as a political statement.
Thousands of Trump-branded plastic straws have been sold on the US president's official campaign website - at $15 for 10 - since they were launched as an alternative to "liberal" paper straws.
They initially sold out online, according to President Trump's campaign manager, before becoming available again.
The bright-red straws, laser-engraved with the word Trump, are being marketed as reusable and recyclable, with the message: "Liberal paper straws don't work. Stand with President Trump and buy your recyclable straws today."
Now environmental groups are saying most plastic straws can't actually be recycled however - and that the material they're made of has no practicable use.
One said it shows the environment is nothing more than a "joke" to the president.
It all comes after restaurants and bars started banning single-use plastic straws for environmental reasons, many citing the danger to marine life, instead favouring alternatives like paper straws.
Republican Devin Nunes also brought the issue to a wider audience when he tweeted earlier this year about restaurants living in fear of the "straw police".

The Trump packs of straws went on sale apparently as a stand against that, with Brad Parscale signalling their sale on Twitter with the words: "Making straws great again."
Mr Parscale said more than 140,000 straws had been sold and more than $200,000 raised.

Trump supporters applauded the move - with one saying she planned to take them to restaurants that only offer paper straws.

'Lack of understanding'
Dune Ives, executive director of Lonely Whale, which is campaigning to prevent the use of single-use straws, said: "I'm only surprised he hasn't come out with a whole suite of plastic items and that he's stopped at straws.
"It just shows the lack of understanding the administration has on how the current waste management infrastructure works in the US. If they did, they'd know that straws are too lightweight to be recycled and are made of a material with no end-of-use life."
She said she wanted people to start paying attention more to their actions when it comes to the environment.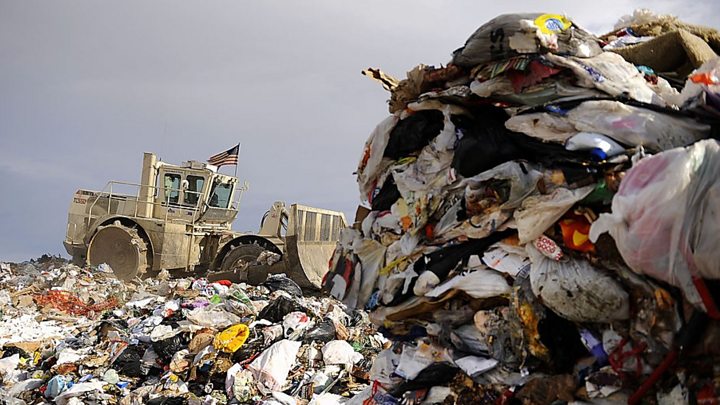 "It's about having a conversation," she said. "Are we OK with having so much waste? Clearly, the Trump administration is.
"And what are we willing to be able to trade for it? Is it our freedom to be able to use a plastic straw? Or is protecting the planet for our children more important? I for one would forego a straw for that."